A mass grave at the Genocide Memorial Center in Kigali. The city center is in the background.

The rose gardens at the Genocide Memorial Center with the city center in the background.

Katie, Carson, our gorilla trekking guide (Dee), and Joan at our orientation prior to trekking to visit the gorillas.

Katie, Joan, and Carson in the bamboo forest during our gorilla trek. This was before it started raining.....

One of the gorillas nestled away out of the rain.

Open wide!

Joan with a black-back (young male) in the background.

Joan with another gorilla off to the right. While posing for this picture the black-back on the left was reaching out to try and touch me!

Katie with a gorilla feeding in the background.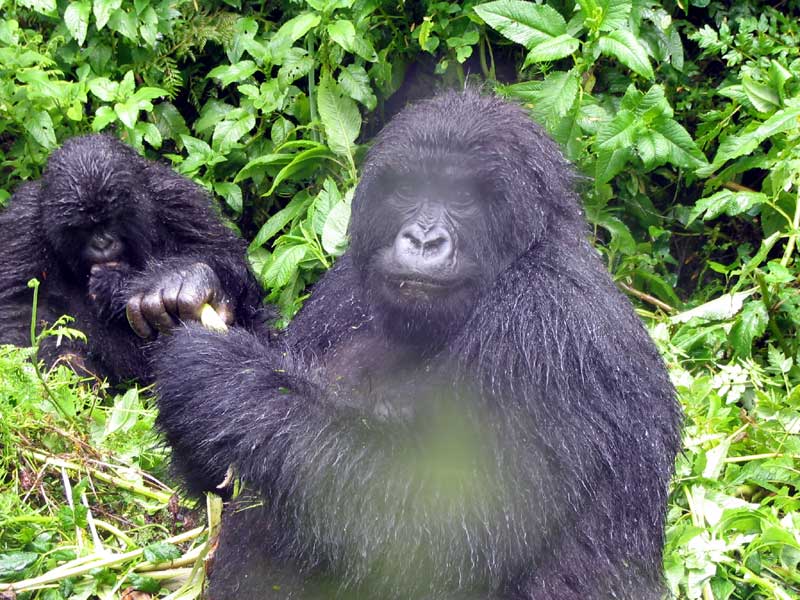 Yum - bamboo shoots!

A young one chowing down on some tender shoots.

Big mamma!

The villagers where we started our hike from. We hiked through the cultivated fields before entering the national park.

Chris, Carson, Katie, and Anna. Chris starts highschool this year, and Anna is in primary school. They both make carvings that they sell to tourists.

Katie, our honorary sister from Belgium/Italy - Paola, Carson, and Joan at the Kinigi Guesthouse after a day of gorilla trekking.

Carson with the mountains in the mist one morning in Kinigi - the scenery was absolutely stunning!

View of the surroundings at Kinigi.

Posing in front of the entrance to the park office where we met for gorilla trekking orientation.

The sign at the park office.

Katie, our guide, and Carson prior to trekking the Golden Monkeys.

A golden monkey. They were very active in the young bamboo forest leaping above our heads.

A golden monkey.

A view that offers justification for Rwanda being known as the Land of a Thousand Hills!

Another spectacular view of the Rwandan countryside.