The BikeVan all ready for the adventure ahead!

Signage on the BikeVan

Sandy's bike (the backup bike) on the BikeVan on Mt. Hood

Making the turn onto Forest Road 48 after the climb up Mt. Hood

About to bunny-hop a cattle guard on the descent from Mt. Hood

View of Mt. Hood in the distance on the way to Time Station 1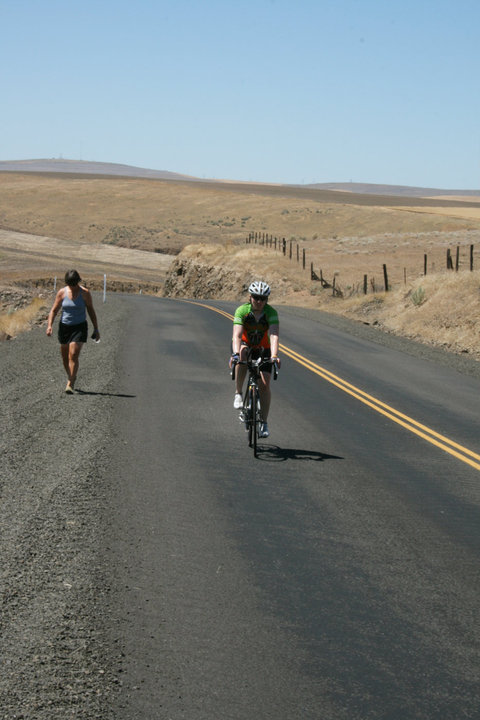 Barren landscape on the way to Time Station 2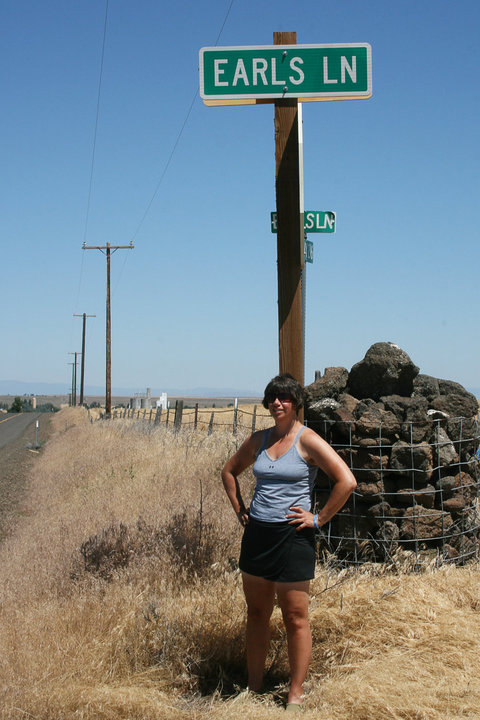 Sandy has a lane named after her!

Getting passed by some rather large farm equipment!

Applying more sunscreen at Time Station 2 in Moro

Lee "Fuzzy" Mitchell making a hand off on Saturday

Jason "Pudu" Pierce and Lee "Fuzzy" Mitchell making hand offs on Saturday

The road climbing up from the John Day River - temps in the upper 90s

Hot climb up from the John Day River - thank goodness for ice socks!

More climbing in the heat

Sandy making a handoff during the hottest part of the day.

Passing through a windmill farm after the big climb.

Another climb in the heat on Sunday

Cookie hand-off!

The temperature reading in the van during the Clarno climb....

Climbing in the 102deg heat....just keep the pedals turning!

Pudu driving while being haunted by gummy bears!

Yes I'll take some cheese fries!!!

On Bakeoven Road on the way to Maupin on Sunday evening

Phew - I can finally sit in a real chair!!

My crew and I at the finish just after 3:30am Monday morning - we made it - woohoo!!!

Happy finisher wearing my SJBC jersey.

Sandy at the finish in her RAAM windbreaker

Sandy got an award at the post race banquet for being a rockstar crew chief! She definitely was!!!!